Dal Makhani is a rich Punjabi dal of urad gram (also known as whole urad beans or black lentils) and rajma (red kidney beans), rather than the split lentils or peas used for most dals. The name literally means "buttery dal".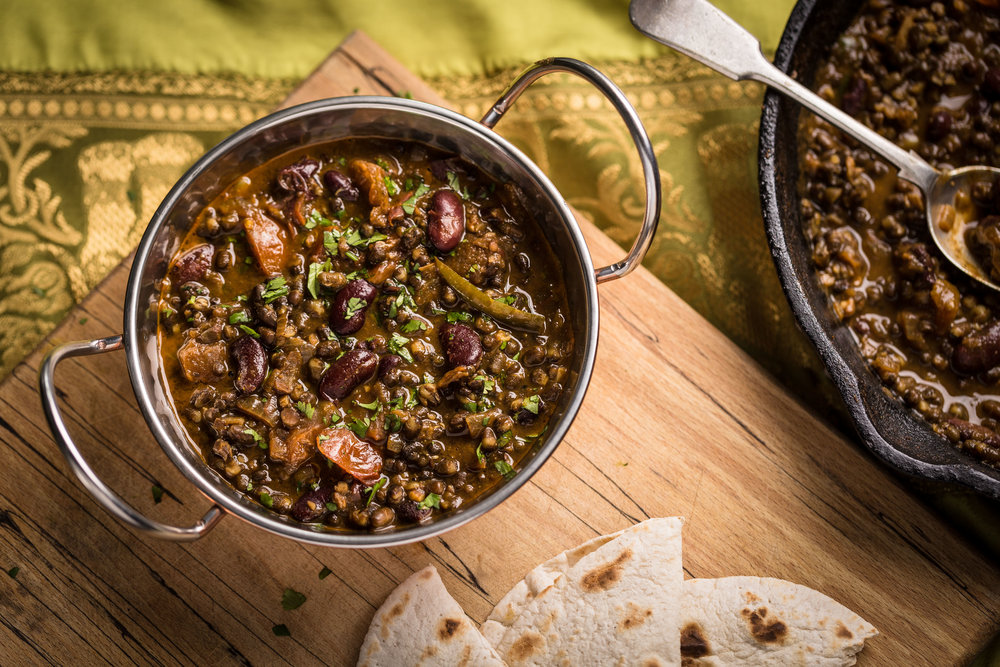 Serves 4
Ingredients
1/2 cup (100g) Urad Gram (Whole Urad Beans / Black Lentils)
2 tbsp (25g) Rajma (Whole Red Kidney Beans)
Salt to taste
1 tsp Red Chilli Powder
2 in Ginger, chopped
3 tbsp Butter
1 tbsp Oil
1 tsp Cumin Seeds
6 cloves Garlic, chopped
1 large Onion, chopped
2 Green Chillies, split
2 medium Tomatoes
1 tsp Garam Masala powder
Method
Pick, wash and soak the pulses (urad gram and rajma) overnight in three cups of water. Drain.
Place the pulses in a large pan with three cups of water with salt and half the red chilli powder. Cover and bring to the boil, allow to boil vigorously for 10 minutes, then reduce the heat and simmer for a further 30 minutes or until tender. (If using a pressure cooker, bring to full pressure and cook for 10 minutes, then turn off the heat and leave to cool and return to normal pressure.)
Heat the butter and oil in pan. Add cumin seeds. When they begin to change colour, add the ginger, garlic and onion and sauté until golden.
This recipe was originally published by pulses.org to mark the United Nations International Year of Pulses 2016