Punj Rattani Dal, "Dal of Five Jewels", is a dal fit for a feast, made of 5 different pulses – chana dal (split chickpea), toor dal (split pigeon pea),  sabut moong (whole mung bean), sabut urad (black gram) and sabut masoor (whole red lentil).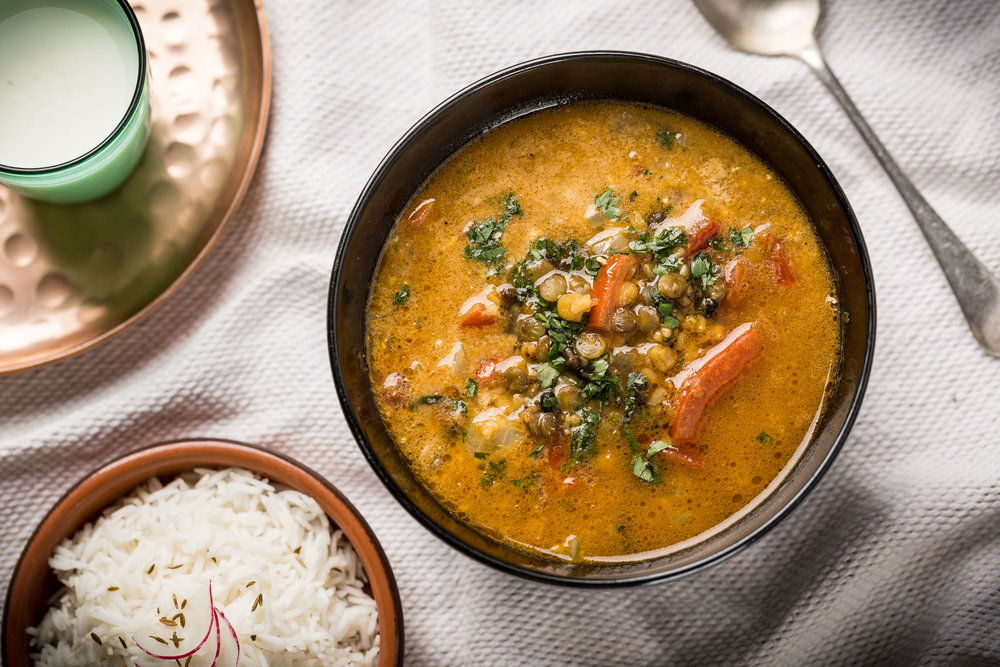 Serves 4
Ingredients
7 tsp Sabut Moong (Whole Mung Bean), Sabut Masoor (Whole Brown Lentil), Sabut Urad (Whole Urad Bean), Chana Dal (Split Chickpea), Toor Dal (Split Pigeon Pea)
2 tbsp ghee or clarified butter
1 tsp cumin seeds
1/3 cup finely chopped onions
2 tsp coriander powder
1/2 tsp red chilli powder
1/2 tsp tumeric powder
1/4 tsp salt
1 tsp cumin powder
1 tsp fennel powder
1/3 cup finely chopped cilantro/coriander leaves
2 tbsp butter
1 roma tomato, finely chopped
1/4 cup yogurt, lightly whisked
1/2 tsp garam masala
Method
Wash the lentils well, and let soak in water for an hour. Drain.
Heat the ghee in a large saucepan, or pressure cooker. Add the cumin seeds and saute over medium heat until they begin to sizzle.
Add in the chopped onions and cook until light brown.
Add the lentils and fry for 4-5 minutes. Since the original recipe calls for 6 tbsp, and I use only 2 tbsp, it is important to keep stirring the lentils, as they tend to stick without the extra fat.
Add approx. 2 liters water, and bring the lentils to a boil. Reduce to low heat, and remove any scum. Add coriander powder, red chilli powder, turmeric and salt. Cover and simmer until lentils are cooked and two-thirds of the liquid has evaporated. When using the pressure cooker, after adding the water, I immediately add in the coriander, red chilli and turmeric powder, put the lid of the cooker on, and let it cook for about 3-4 whistles. Then I lower the heat, and keep on the flame for 20-25 minutes. Once the pressure leaves, open the lid and proceed as follows.
Mash the lentils lightly against the sides with a wooden spoon. Sprinkle cumin powder and fennel powder, stir for 2-3 minutes. Adjust seasoning, if necessary.
For the tempering, melt butter in a small saucepan. Once the butter is melted, add in the tomatoes, yoghurt and garam masala and fry over medium heat until the fat leaves the sides. You will see the butter floating on the sides. Add this mixture immediately to the cooked lentils and cook for another 3-4 minutes.
Garnish with coriander and serve with any Indian flatbread or rice.
This recipe was originally published by pulses.org to mark the United Nations International Year of Pulses 2016