Kalpna Woolf, founder of 91 Ways to Build a Global City, has contributed this recipe from her mum, along with her ode to dal and its story. 
This dal can be either eaten as a one-bowl dinner or as a soup. It tastes even better the next days so make double the quantity.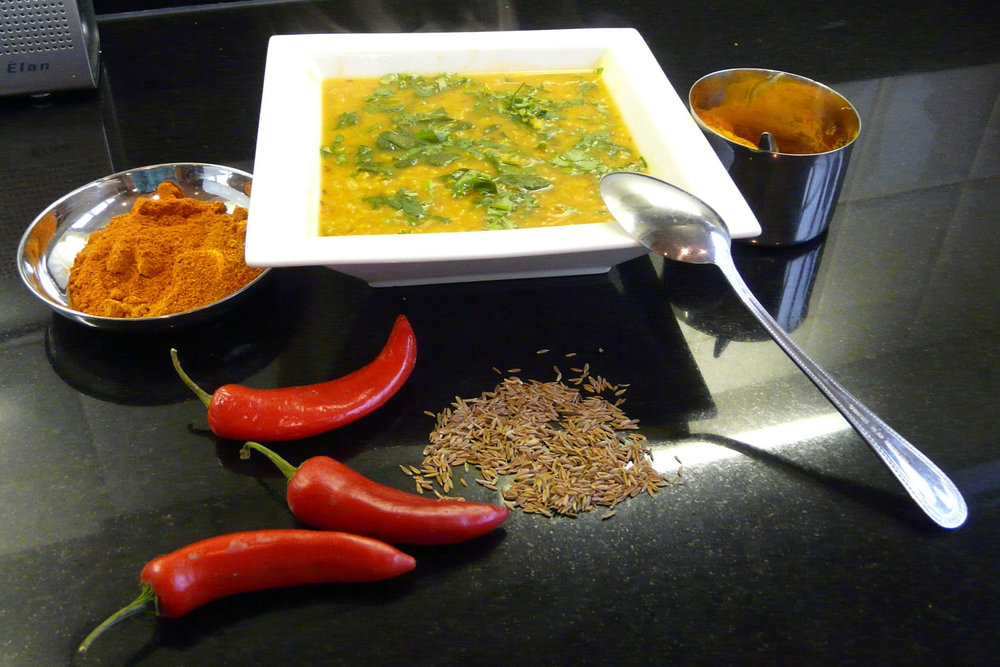 Ingredients
200g/7oz Chana daal
2 litres/3 ½ pints cold water
2 tsp ground turmeric
FOR THE SAUCE
For the sauce
2tbsp olive oil
1tsp cumin seeds
2 garlic cloves, finely chopped
5cm/2in piece fresh ginger, peeled and grated
1 medium onion, finely chopped
28g/1oz. fresh coriander (cilantro), stems and leaves chopped separately
1 green chili, finely chopped
1 tsp. ground coriander
½ tsp. chili power
¾ tsp. salt
200g/7oz. canned chopped tomatoes
1tbs. tomato puree (paste)
4-5 tbsp. warm water
160g/5 ½ oz. young spinach leaves, roughly chopped
Method
Rinse the daal so the water runs clear, then soak in a bowl of cold water for at least 2 hours, or overnight.
Bring the water to the boil in a large saucepan. When the water starts to boil, add the daal and 1 teaspoon ground turmeric. Partially cover the pan and cook over a medium- high heat for 30 minutes. The water may need skimming. After 30 minutes, turn up the heat to high and cook for a further 1—15 minutes until the daal is soft and the water is absorbed in the daal.  The daal should retain its shape but still be soft.
Heat the oil in a deep frying pan over a medium heat. Add the cumin seeds and, as soon as they start to they sizzle, add the garlic and ginger. Mix for 1 minute then add the chopped onion, coriander stems and green chili and cook for 4-5 minutes until the onion is soft and almost brown. Add the spices – the remaining turmeric, the ground coriander, chili powder and the salt – and stir through for 1-2 minutes. Add the canned tomatoes and juice and the tomato puree, then add the warm water and leave to meld together for about 10 minutes over a low-medium heat until the tomatoes are mashed down and the sauce is thick.  At this stage, add the spinach leaves and cook for 1-2 minutes until wilted.
When the daal is soft, spoon the sauce into the daal and simmer for 5-10 minutes. The daal will thicken. Mix in the coriander leaves and serve.
This recipe was contributed by Kalpna Woolf.