Indian chef and author Maunika Gowardham has contributed this recipe for Dal Khichdi – lentils and rice cooked with turmeric, garlic, chilli and curry leaves.
"A classic dal khichdi is a hug in a bowl!"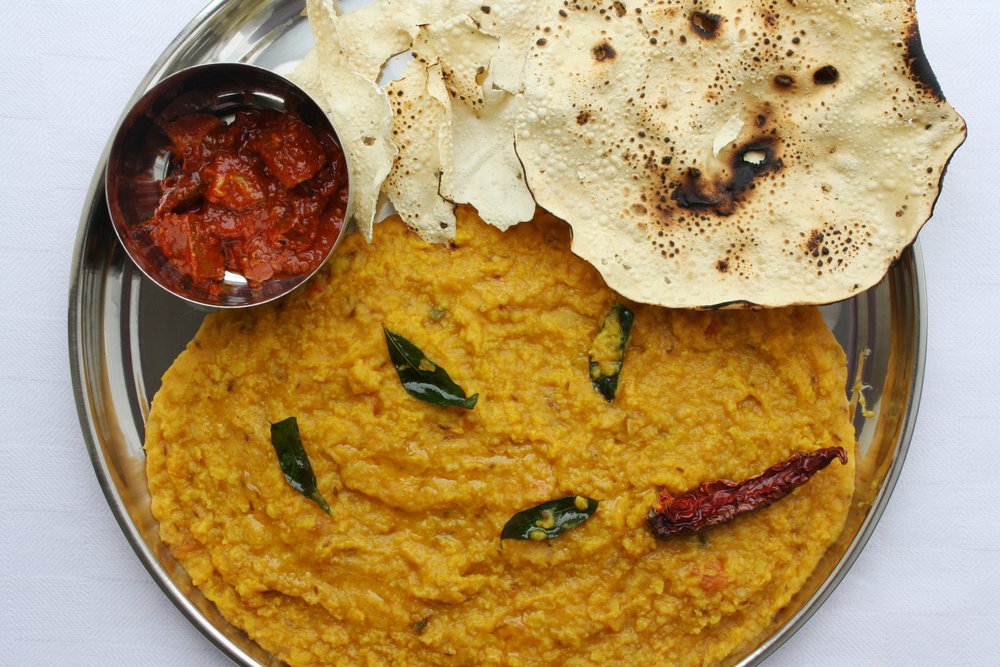 "For this recipe I use toor dal which is my preferred dal variety for Dal khichdi; its easy to digest and also cooks quickly. You can swap it for moong dal if you prefer. I've also used basmati here although any short grain rice would be good."
"Like any good risotto that must be cooked with butter and cheese, for me khichdi is like the Indian risotto where ghee is what makes it so comforting and delicious. It gives a lovely smoky flavour the dish as well. Use oil for cooking if you prefer but finish the dish with a little ghee at the end."
Serves 4
Ingredients
90gms basmati rice
150gms toor dal
1.2 litres warm water
1 tsp turmeric powder
Pinch asafoetida
3 tbsp ghee or vegetable oil
2 whole green cardamom pods
2 bay leaves
1 tsp cumin seeds
8-10 curry leaves
80gms white onion finely chopped
1 green chilli finely chopped
1" ginger blended to a paste
3 cloves garlic blended to a paste
80gms tomato finely chopped
1 tsp mild chilli powder
Salt to taste
50mls water
Coriander for garnish
Method
Soak the rice and dal in plenty of water for 20 minutes. Drain and add both to a sauce pan along with 1.2 litres of warm water, turmeric and asafoetida.
Bring to a boil and simmer over a low heat cooking the dal and rice for 35 minutes with the lid half on. Make sure to stir ever so often so it doesn't stick to the bottom of the pan.
Once cooked turn the heat off. Cool slightly and using a potato masher mash roughly. You still want a few grains to be left whole. Set aside.
In a heavy bottom large sauce pan heat the ghee or oil over a medium flame. Add the cardamom pods, bay leaves and cumin seeds fry for a few seconds.
Now add the curry leaves followed by the onion. Fry for 3-4 minutes until it goes light brown. Stir well and add the green chilli followed by the ginger paste and garlic paste and fry for a minute.
Add the tomato and continue to fry over a low heat for 4 minutes; as they begin to soften add the chilli powder and stir well.
Add the mashed dal and rice and season the khichdi. Stir, add water and simmer on a low heat for 2 minutes. Turn the heat off, garnish with coriander and rest for a few minutes. Serve warm with crispy papad and mango pickle.
This recipe was contributed by Maunika Gowardham. Maunika's book 'Indian Kitchen' is packed with traditional Indian curries alongside recipes dating back to the 1950's from her family home in Mumbai.