Cook, teacher, writer and food producer Bini Ludlow first learnt traditional Gujarati cooking from her mother at home in Bradford at the age of eight. We're delighted that she's shared her mum's recipe for ondhwa, a vegetable cake of dal, as well as her first memories of eating dal.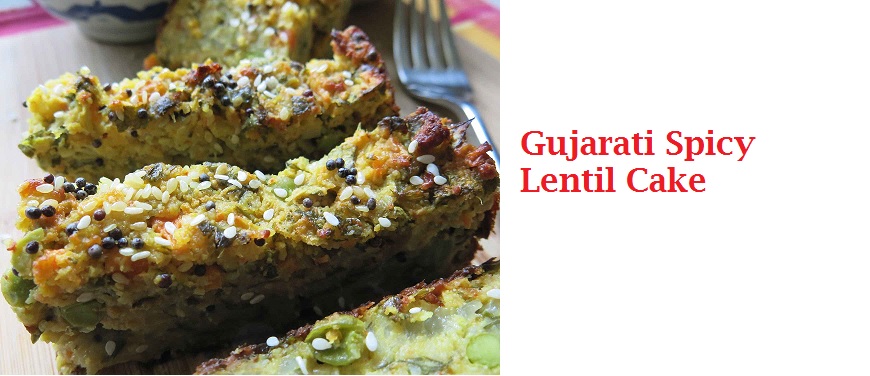 Ingredients
200g Ondhwa flour (a blend of lentil and rice flour)
500ml Natural Yoghurt (sour is best)
380g Carrots (peeled weight)
360g Potatoes (peeled weight)
130g Frozen Peas (optional)
225g Onions
170g Spinach
30g Ginger peeled
20g Garlic – unpeeled
60g Coriander chopped
50g Fresh Fenugreek Leaves (Methi)
1 fresh green finger chilli
Dry ingredients to be put onto a small plate:
4tsp Sugar
3tsp Salt
¼ tsp Turmeric
8g Chilli powder
¾ – 1 tsp Bicarbonate Soda
Vagar ( tempering the oil)
3 tbsp vegetable oil
3 tsp Mustard seeds
3 tsp Sesame Seeds
Method
Place the Ondhwa flour and yoghurt into a large glass bowl and mix well. Cover and set aside for four hours.
Slice the onion – leave aside.
Roughly chop the carrots.
Rinse the peas using warm water to help defrost them (optional).
Wash and roughly chop the spinach, fenugreek leaves and coriander.
Remove stalk from the green chilli, wash in cold water and chop up finely. Avoid touching your eyes when handling chillies and wash your hands thoroughly afterwards. Peel and chop the ginger and garlic.
Blitz the vegetables, coriander, methi (not the onion), garlic and ginger until it is coarsely chopped.
Add to the Ondhwa mixture. Now add the sliced onion, sugar, salt, turmeric, chilli powder and bicarbonate of soda. Mix thoroughly.
Transfer into a 10cm x 10cm oiled baking tin.
In a saucepan add 1.5 tbsp oil and turn the heat on to a medium flame. When hot, add the mustard seeds and allow them to pop, then the sesame seeds. Cook for around 15 seconds, allowing them to turn light brown in the oil. Using a spoon, add the spiced oil onto the Ondhwa and stir well. Flatten the top. Finally, repeat tempering the oil with the mustard seeds and sesame seeds and pour the oil evenly over the surface.
Cook in the middle of the oven for 55 minutes on 160-180ºC on a fan assisted setting, until a golden crust is formed and the cake is cooked through.
This dish is best eaten hot but is also delicious cold with a cup of tea.
This recipe was contributed by Bini Ludlow. Find details of Bini's cookery courses at http://www.sweetcumin.co.uk