This wonderful recipe from Kolkata has been shared with us by Chetna Makan, from her book Chai, Chaat & Chutney: A Street Food Journey Through India.
"This special lentil dish from Kolkata is prepared in a way that is very different to how I would normally cook moong dal. I had to learn this recipe because I absolutely loved it served in a thali with rice and fried fish when I was visiting the city. Serve this dish hot with rice and Fish Fry (find the recipe in Chai, Chaat & Cutney) or enjoy the dal on its own as a bowl of soup."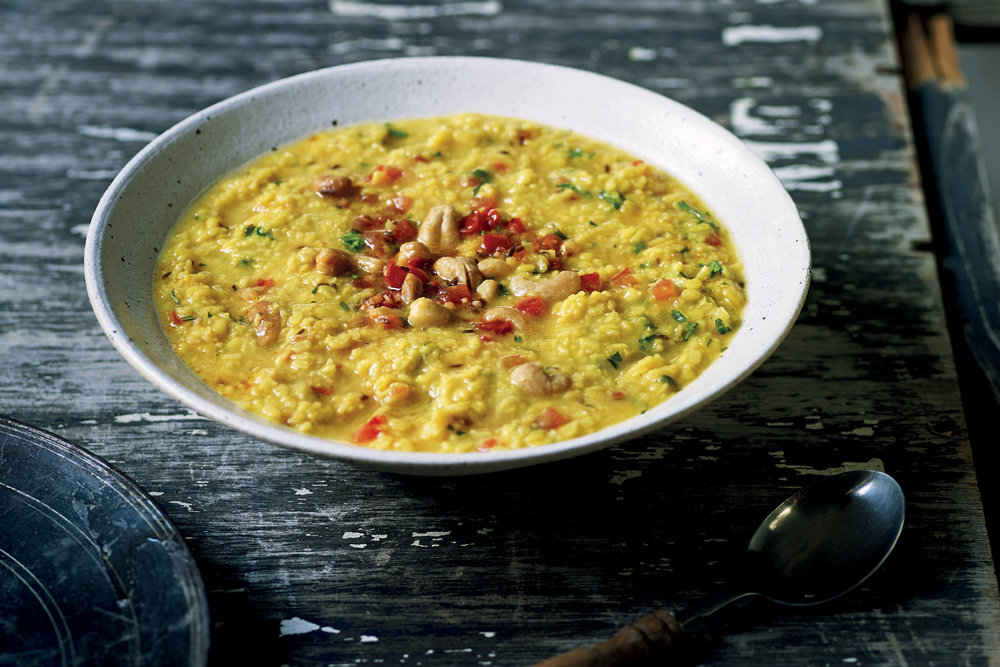 Ingredients
300g (10½oz) split yellow lentils (moong dal)
1.4 litres (2½ pints) water
1 teaspoon salt
1/2 teaspoon ground turmeric
40g (1½oz) cashew nuts
1 tablespoon ghee
1 teaspoon cumin seeds
2.5cm (1 inch) piece of fresh root
ginger, finely chopped
1 tomato, finely chopped
1 small green chilli, finely chopped
handful of fresh coriander leaves, finely chopped
Method
Put the lentils into a saucepan with the measured water, salt and turmeric. Bring to a boil, then simmer for about 25–30 minutes, until the lentils are cooked.
Meanwhile, soak the cashew nuts in a bowl of warm water for 30 minutes.
Heat the ghee in a frying pan over medium heat. Add the cumin seeds and, when they begin to sizzle, add the ginger.
Drain the cashews, add them to the ginger and fry for 2 minutes or until the nuts are golden. Add the tomato and chilli and cook for about 2–3 minutes, until they soften.
Stir in the coriander.
Tip the contents of the frying pan into the cooked dal and mix well. Serve immediately.
This recipe was contributed by Chetna Makan and was originally published in her 2017 book Chai, Chaat & Chutney: A Street Food Journey Through India.