Rasam is a Southern Indian soupy tomato dhal flavoured with tamarind. It's a super quick dhal to make as it's made with red lentils that cook quickly.
This recipe is from Rachel Demuth of Demuth's Cookery School, where the dish is part of their Southern Indian Cookery classes, served with idlis and coconut chutney.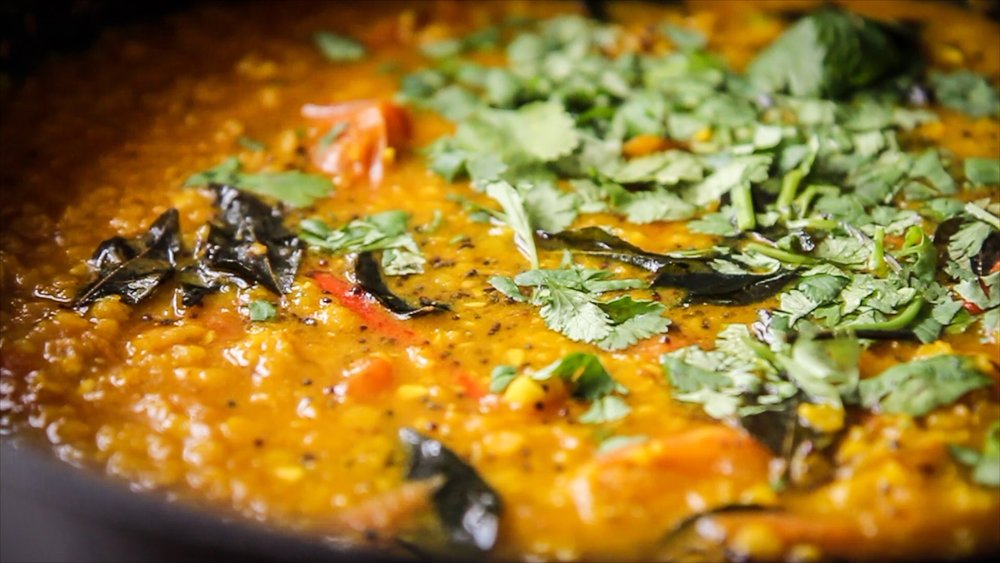 Ingredients
thumb of fresh ginger, peeled and finely chopped
2 garlic cloves, finely chopped
1 tsp sunflower oil
50g red split lentils (masoor dal)
2 tsp masala spice mix (see ingredients below)
1 tsp turmeric
400ml water
4 tomatoes, chopped
2 tbsp tamarind liquid
2 green chillies, split and de-seeded
salt
squeeze of lemon
Tempering
2 tsp sunflower oil
2 red chillies, split, de-seeded
1 tbsp mustard seeds
handful of curry leaves
Indian Masala Spice Mix
Whole spices
1 tbsp coriander seeds
1 tbsp cumin seeds
1 tsp fennel seeds
Ground spices
1 tsp turmeric powder
¼ tsp chilli powder
Method
Masala Spice Mix
Heat a small frying pan without any oil and dry fry the whole spices. Best to dry-fry each type of spice separately. Decant at once onto a plate, as they will continue to cook in the frying pan and burn easily.
Grind the dry-fried spices to a fine powder in a pestle and mortar or spice mill. Add the ground turmeric and chilli.
Keep the spice mix in a sealed jar in a cool dark place.
Rasam
Heat the oil and stir-fry the ginger and garlic until fragrant.
Add the lentils, turmeric, masala spice powder, water, tomatoes, tamarind liquid and green chillies.
Simmer for about 20 minutes, then season to taste with salt and a squeeze of lemon and set aside.
Tempering
Heat the oil in a frying pan and add the chillies, mustard seeds and curry leaves.
When the mustard seeds start to pop, pour the hot oil over the lentil mixture.
Serve in little bowls as part of a thali or for breakfast with idlis or dosas.
Tip: To make 2 tablespoons of tamarind liquid, pull off a walnut sized piece of tamarind from a block of soft tamarind and just cover with boiling water, when it is soft sieve out the hard seeds and retain the pulpy liquid.
This recipe was contributed by Rachel Demuth of Demuth's Cookery School