This unusual but mouth-watering recipe for dal with egg comes from chef and food writer Vivek Singh's wonderful book Curry – Classic and Contemporary.
"In Punjab and the rest of northern India, the term tadka refers to tempering cumin, chillies, onions etc before using them to finish lentils and similar dishes. The final addition of spices cooked in hot ghee gives them smokiness and a pronounced kick. In roadside cafés along the highways of eastern India, the meaning has become distorted, and tadka refers to a dish of green moong lentils. I've seen many variations of this lentil dish, some with a sauce made from chicken, lamb or even egg. This version uses egg."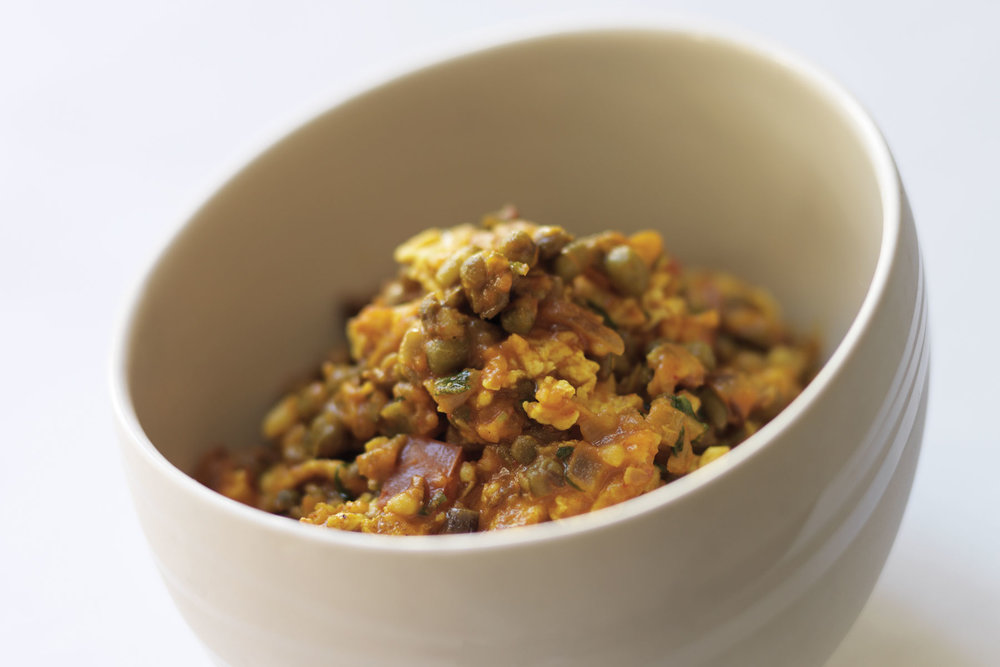 Ingredients
200g whole green moong lentils
2.5 litres water
1 tablespoon salt
1 tablespoon Ginger Paste
1 bay leaf
3 black cardamom pods
4 tablespoons vegetable or corn oil
1 teaspoon cumin seeds
1 tablespoon chopped garlic
2 onions, very finely chopped
1½ teaspoons chilli powder
1 tablespoon ground coriander
3 very ripe tomatoes, puréed
2–3 green chillies, finely chopped
½ teaspoon garam masala
1 tablespoon butter
juice of ½ lemon
4 free-range eggs, lightly beaten
1 tablespoon chopped fresh coriander
Method
Wash the lentils, leave them to soak in cold water for 20 minutes, then drain. Put them in a pan with the water, three-quarters of the salt, plus the ginger–garlic paste, bay leaf and black cardamom pods. Bring to the boil and simmer for about 50 minutes, until the lentils are soft but still hold their shape.
Heat 2 tablespoons of the oil in a large, heavy-based pan and add the cumin seeds. When they crackle, add the garlic and fry until golden. Add three-quarters of the onions and cook till golden brown, then stir in the chilli powder and ground coriander. Cook for 3–5 minutes, until the oil starts to separate from the mixture round the edge of the pan. Add the puréed tomatoes and cook for 8–10 minutes. Pour the boiled lentils into this mixture, bring to the boil and simmer for 10–12 minutes. Add the green chillies and garam masala and cook gently until the onion mix and lentils are thoroughly combined and the lentils thicken the mix slightly so it is homogenous. Simmer for another 2–3 minutes, then add the butter and lemon juice. Transfer to a serving bowl.
Heat the remaining oil in a separate pan and sauté the remaining onion in it until translucent. Add the eggs and the remaining salt and cook gently, stirring to scramble the eggs. Pour the eggs over the lentils. Garnish with the coriander and serve hot, accompanied by Layered Parathas or Naan Bread.
Tip
If you like, you could extend any leftover chicken or lamb curry by adding plain boiled green moong lentils to it and heating through thoroughly.
This recipe was contributed by Vivek Singh from his book Curry – Classic and Contemporary.