This Pumpkin (or Squash), Coconut and Lentil Soup is from Queen of Pulses Jenny Chandler's classic book of bean, pea and lentil recipes, Pulse.
It's full of zingy spice, just the thing to perk up a wintry evening.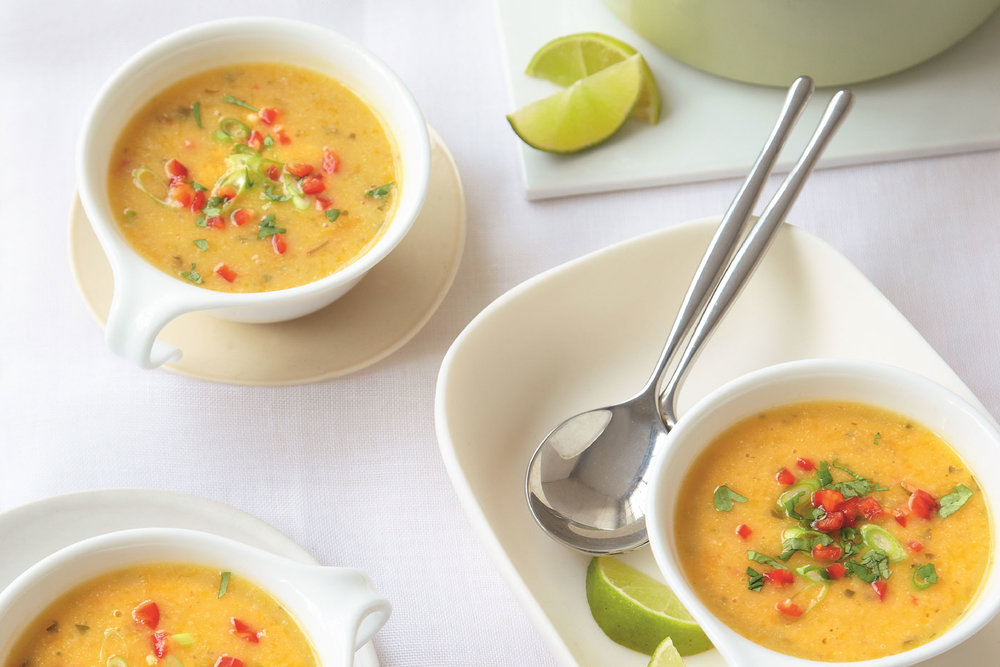 Ingredients
2 tbsp vegetable oil
small bunch of spring onions (scallions), finely sliced
2 garlic cloves, crushed
5-cm/2-in piece of fresh ginger, chopped
1–2 fiery chillies, finely chopped
2 stalks of lemongrass, outer leaves removed and remainder finely sliced
225 g/8 oz/generous 1 cup red lentils, rinsed
500 g/1 lb 2 oz pumpkin or butternut squash, peeled, deseeded and cut into 2 cm/3⁄4 inch dice
1.2 litres/2 pints/5 cups vegetable or chicken stock
400 g/14 oz can of coconut milk
1 tbsp tamarind paste
2 tbsp finely chopped fresh coriander (cilantro)
Thai fish sauce or tamari soy sauce
juice of 1–2 limes
pinch of brown sugar or palm sugar (optional)
Method
Heat the oil in a large saucepan and add most of the spring onions (setting aside a tablespoon to garnish). Add the garlic, ginger, chilli and lemongrass and stir for a minute or two, until you are engulfed in fabulous smells. You will be wheezing if you have been generous with the chilli!
Add the lentils, pumpkin or squash and the stock, and simmer until the lentils are soft and the pumpkin flesh has collapsed.
Stir in the coconut milk, tamarind and most of the coriander. Now taste and balance the soup with fish sauce or soy sauce, lime juice and sugar.
Serve hot, sprinkled with the remaining spring onions and coriander.
This recipe was contributed by Jenny Chandler from her book Pulse.