Despite the name this dish from the Greek island of Santorini is made not with fava beans but with split yellow peas – or more traditionally with a local variety of grass pea, an entirely different species of pulse. Either way it makes a simple but delicious dip and, in our book, counts as a dal by another name.
This recipe has been been shared with us by Hodmedod – it's a great use for their split yellow peas.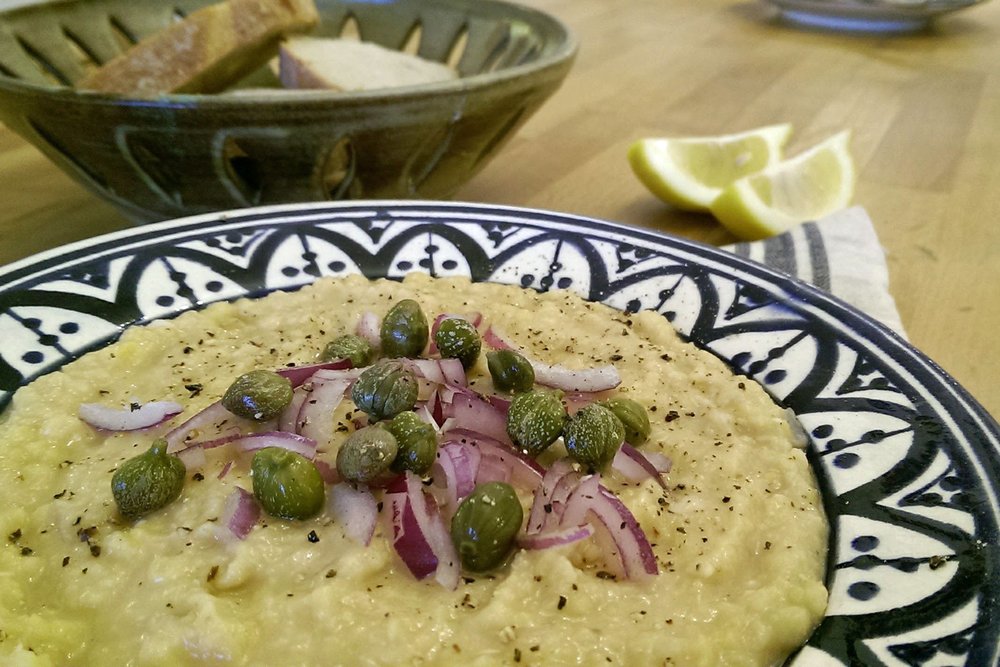 Ingredients
200g Split Yellow Peas – or Greek Fava (Lathyrus clymenum) if available – soaked for 4 hours
½ Red Onion, sliced into rings
1 Red Onion, diced
1 tsp Flaked Sea Salt
½ Lemon
2 tbsp Extra Virgin Olive Oil
Water as required
Olive Oil, Capers and sliced Onion Rings to finish
Method
Rinse the split peas well and place in a large saucepan, cover with water, bring to the boil and then simmer on a moderate heat for 20 to 40 minutes until the peas are tender but still intact (the cooking will vary according to the peas and your water hardness), checking that the water does not evaporate and topping up with extra water if necessary.
Add one diced red onion and two tablespoons olive oil and continue to cook for a further 10 minutes until the peas are cooked but not too mushy.
Roughly mash the mixture and leave to cool.
Before serving, stir in more olive oil, lemon, salt and pepper to taste and drizzle with extra oil, top with the sliced onion rings and capers.
Serve cold or warm with vegetable croutons, toasted pitta bread or even fava flatbreads!
This recipe was contributed by Hodmedod from their collection of recipes for British-grown pulses.