We're excited to share this delicious dal from Hari Ghotra, whose website is a treasure trove of superb dishes, including plenty of inspiring dals.
"This thick lentil dhal has a creamy texture, and it's made from a simple mixture of black lentils (also called Urid beans) and split chickpeas."
"This combination gives it a wholesome earthiness, and the little yellow freckles throughout the dish look beautiful, too. Do experiment with different lentils though. They might seem dull little things but if you cook them right they release a range of textures, and when combined with some aromatic Indian spices they taste simply stunning. They are a healthy option, easy to make and make a nice change."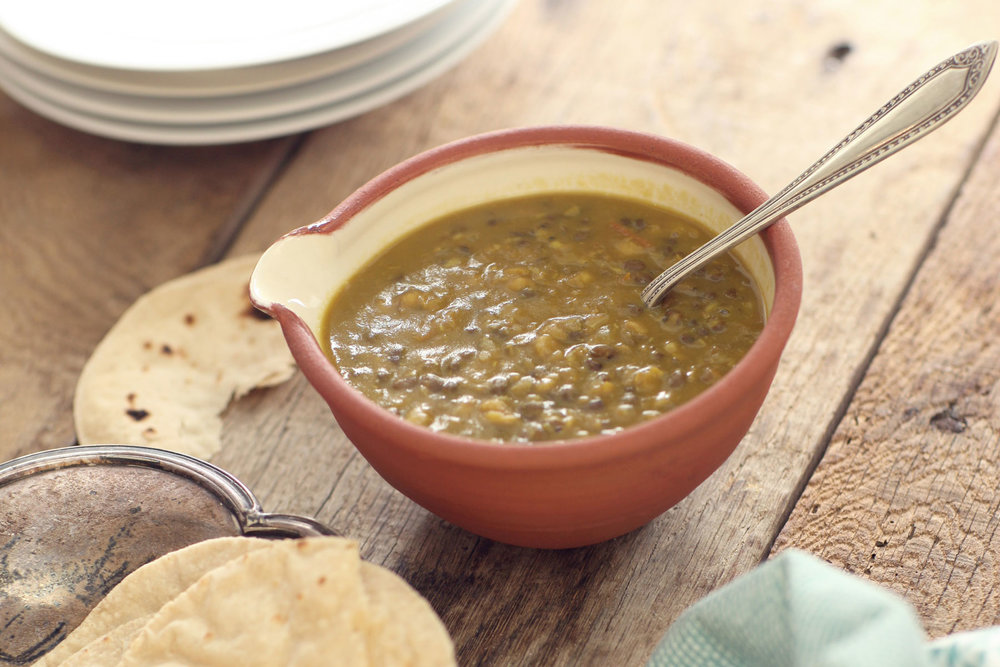 Ingredients
Lentils
100g split chickpeas (chana dal)
100g urid beans, washed and checked for stones
1L water
1 tsp salt
Masala 
1 tbsp vegetable oil
1 small onion
1 clove garlic, chopped
½ tin or 200g tomatoes
1 tsp ginger, grated
1 chilli, finely chopped
1 tsp turmeric
½ tsp salt
1 tsp garam masala
Handful of fresh coriander, chopped
Method
Lentils
Put the lentils in the pressure cooker and add 1L of cold water.
Add 1 tsp of salt put the lid on the pan and bring to the boil. Let the pan come to temperature and whistle once, then reduce the heat and leave to simmer for 30 minutes. After this time remove from the heat and leave the pan to cool – DO NOT REMOVE THE LID.
Masala
Meanwhile in a medium sized pan heat oil and add the onion and garlic, fry until lightly browned.
Reduce heat and add tomatoes, ginger, chilli, turmeric and ½ tsp of salt. Continue to cook so the tomatoes and onion have melted together to create a thick paste.
Once the pressure cooker has cooled and the pressure has been released open the lid. Check the lentils are cooked by squeezing them between your fingers. If they are soft they are ready.
Add the cooked dhal to the masala and stir, leave to cook for about 5 minutes.
Stir in the garam masala and throw in the coriander to serve.
This recipe was contributed by Hari Ghotra and first published on her website.